The reality is spy apps in the market today are a hit or miss. If you've downloaded countless spyware apps only to uninstall them a short while later after finding that they don't work, you're in great company. We've all been there.
But, once in a while, you'll find one that works, and bingo! It's a slam dunk. We came across mSpy and decided to test it out and see whether it would live up to our expectations. Without further ado, let's get into this mSpy review.
What is mSpy?

mSpy is a phone spy app that allows you to monitor details like the target's phone calls, text messages, GPS location, media files, social media accounts, and more.
It's compatible with both Android and iOS devices and comes with an easy-to-use dashboard that you can use to access all the apps on the target's mobile phone.
How to Use mSpy
mSpy was created for protective parents who want to keep their children safe from online predators out to take advantage of vulnerable kids. This app was also made for employers who wish to keep an eye on their staff members to prevent competitors from getting their hands on company secrets.
It's for wives or husbands who suspect their partners of having an affair, alongside working as a parental control aid for many. All you have to do is download mSpy to the target phone and start monitoring the user's activities remotely from its control panel.
Android OS Compatibility
Before you start using mSpy, you need to check whether your device is compatible. We were using an HTC U11 running on Android Pie version 9.0. Nonetheless, we can confirm that it works on just about any Android device that runs on OS version 4.0 upwards.
Next, you'll need to have actual physical access to the phone in question. Additionally, it needs to have an active internet connection during the set-up process.
mSpy iOS Compatibility
We have it on competent authority that mSpy works with any iOS version starting from the 7th. You'll need to have physical access to the iPhone you're installing it in. It's important to mention here that before you can install it, the target iPhone needs to be jailbroken.
However, this effectively voids its warranty, so it's worth considering what the ramifications would be if you do this without the user's knowledge. They found out later that you messed up their warranty. In addition to this, the target device needs to have a working network connection throughout the installation.
As soon as these prerequisites are fulfilled, you can use this tracking app to keep an eye on family members and loved ones from a distance without breaking any jurisdiction laws.
mSpy Features
We tested the app's features to see how well they work. Each of them are analyzed in detail below –
SMS Monitoring

mSpy keeps a log of all texts sent to and from the target's device. It also supports a feature that allows you to receive these reports of SMS on your phone in real-time. The app will give you the following details under this section –
The timestamp and date of the sent or received messages
The contact's name
Any MMs attachments sent with the text messages
mSpy Keylogger
This feature records every keystroke made by the user as they type on their keypad. We were able to view logged text data on our control panel and can verify that it was accurate.

We, however, found that for any networking apps that mSpy couldn't track directly, we were still able to capture all keystrokes made and read all text messages sent through them. The keyword alert feature works hand-in-hand with mSpy keylogger to alert you when the target user types specific words or phrases that would be red flags in your books.
This feature works commendably when it comes to tracking text messages, browser history, social media, Google Play, and so on. The keylogger of this tracker app records the keystrokes made to type a text message and help you find out every detail about it.
GPS Tracking
This feature monitors the GPS location of all the aimed devices. It also stores information about the route history. That way, you know exactly where the user has been and for how long they were there.

Its location tracking facility is accurate and renders live data.
mSpy also offers a unique geofencing feature that allows you to create virtual boundaries for the target user and receive real-time alerts when those boundaries are crossed. That way, you can learn about the target's whereabouts at all times and find out if they're going somewhere they shouldn't.
Social Media Monitoring

If the user has Viber, WhatsApp, Skype, Snapchat, and Facebook messenger installed on their phones, mSpy monitoring software records all data exchanged and uploads this information to your control panel. All messages, photos, and videos come with time stamps attached.
The best part about mSpy is that it offers you access to all these chats in a conversation view, making them easy to read and decipher.
Multimedia Monitoring
mSpy monitors all photos and videos that were taken by the target phone and uploaded them to your account.

You'll be able to browse through the thumbnails and preview their contents quickly. That way, you get some insight into what your target user gets up to when you're not looking.
Call Logging

Keep an eye on all incoming and outgoing phone calls and emails of your target. The app also allows you to block calls to and from any unwanted number. Every minute detail of call logs like time of call and duration can also be learned.
Browser History Monitoring
All browsing activities of the user being spied can be monitored and logged through mSpy monitoring software even after the user clears their browsing history. If you're worried about your child visiting inappropriate websites, you can use the blocking feature or internet filter to mitigate it.
mSpy Pricing
mSpy has one of the most affordable and flexible plans you'll find in the market. Customers can choose between the Basic Plan and the Premium Plans. The first offers a basic list of features, while the Premium Plan offers more advanced features like geofencing, social media monitoring, app blocking, and Wi-Fi monitoring.

How Does mSpy Work?
mSpy runs in the background of any smartphone it's installed on. It works by monitoring and collecting data on all activities that take place on the target device and uploading them to your online dashboard.
You can access your mSpy account using any browser and at any time.
One of the best things about it is that you can spy on someone's phone without them knowing. That comes in handy to save you from all the drama that would ensue if the target user ever found out that you were monitoring them.
This monitoring solution can be used to catch cheating spouse without any identity theft risks.
It starts working after you install it on a device. But, you have to pay for a monthly or annual subscription first.
For purposes of this mSpy review, we decided to bite the bullet and purchase a monthly plan. We felt that a month was the right amount of time to get a feel for it before deciding whether or not it was a keeper.
How to Install mSpy
Once you've confirmed that the device is compatible, here's how to start using mSpy.
Step 1: Sign up on the mSpy website with your email ID and a secure password.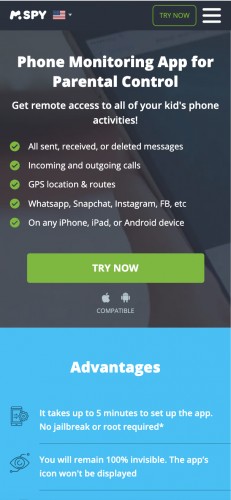 Step 2: Create an account.

Step 3: Select the target phone you want to monitor

Step 4: Select your preferred subscription plan based on what features you want to enjoy. Proceed to pay for it.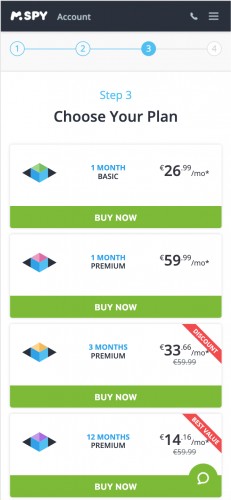 Step 5: Check your confirmation email for the login credentials to your online control panel and an installation guide as well.
Step 6: Download the app to the target phone and start monitoring the device remotely through your control panel.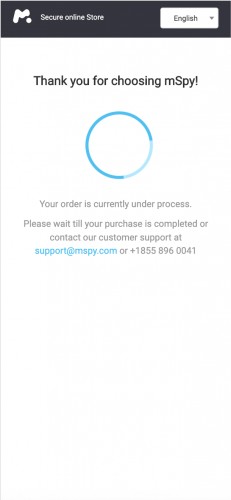 After we had paid for our subscription, we received an email in a little under a minute. The entire process was quite fast, and we were ready to roll within a couple of minutes.
Is mSpy Legit?
Yes, mSpy is one of the best spy apps available in the market today. It's compatible with both Android and iOS devices offers excellent customer support round the clock. They also offer a transparent 7-day free-trial so you can check if the app is a good fit for your monitoring needs.
Is mSpy Detectable?
Perhaps one of the fascinating features of mSpy has to be its ability to operate on the target phone undetected. Not only is it lightweight, but the user won't even know that it's running in the background.
The moment the phone is connected to the internet, all the information will be transmitted to you discreetly.
Is mSpy For Free?
Yes, mSpy does offer a 7-day free trial for you to check the app's compatibility with your needs. However, even without the free trial, the Premium version offers various advanced features at a competitive price.
What Can mSpy See?
With mSpy, you can view all the websites your child, employees, or partner has visited on their mobile phones. You can also view a log of all their calls, text messages, GPS locations, keystrokes, and more.
Does mSpy Require Jailbreaking or Rooting?
No, you don't have to jailbreak or root the target device to use mSpy, as most of its features will work just fine on a non-rooted or jailbroken device. However, doing so does allow you to do a little more with the app, such as using the geofencing feature.
Customer Support
Phone tracking or monitoring is not an easy job. No matter how strongly a spying app claims to offer easy assistance, some sort of guidance is always needed – keeping that in mind, mSpy has built a highly responsive customer support center. The direct contact phone number comes with a website widget. You can make a call directly from your laptop or phone – no need to dial that number.
They have a separate "Contact Us" page where details of multiple help centers can be found. The page also includes some legal information.
All in all, the support team of mSpy is good enough to help you in times of crisis.
The Verdict: Pros & Cons
We found mSpy to be one of the few spy apps in the market that does what its developers assert. We installed its mobile monitoring solution on our target HTC phone for one month to test out all its features.
We are happy to report that it accurately captured all phone data, and we were able to view it remotely from the dashboard. Here are the key pros and cons that we identified:
| | |
| --- | --- |
| ✔️ Fast installation | ❌ Requires physical access to the target. |
| ✔️ Discreet operation | |
| ✔️ Affordable subscription plans | |
| ✔️ Supports all global network carriers | |
| ✔️ Works even when cell phone number changes | |
| ✔️ Refund available within 10 days of purchasing | |
Although there was no way to install the app without having physical access to the phone, we found mSpy to be feature-rich, affordable, and reliable.