This article is for educational purposes only. All methods and hacking tools discussed in this article are not considered to be actual hacking. Regardless, if you decide to perform any of these methods, do so at your own risk. You should be aware that privacy-compromising activities can bear legal consequences.
If you suspect foul play from your spouse or are worried that your child is in contact with the wrong people, you can hack their Snapchat without them knowing. Hacking someone's Snapchat may sound like a techy, complicated process, it is effortless and can apply to hacking someone's Facebook or Instagram accounts.
There are 5 real ways to hack someone's Snapchat account:
To reset their password;

With the help of working snapchat hacking apps

To use a keylogger

Using the software

To create a phishing link
Read the detailed overview below and see what pros and cons these methods have.
How to Hack Someone's Snapchat Account for Free
So what's one thing that comes to your mind when you want to know how to hack into someone's Snapchat account?
Probably, the easiest option that you can think of – Forget Password and Recovery method.
Before you move ahead with any of these methods, it is essential to know that these methods are meant for the existing users. They have lost track of their passwords to help them regain access to their social media accounts by using an email or a phone number connected to their account.
Pros & Cons: The benefit of this Snapchat hack process is that it's free and quick. On the other hand, you will have to obtain access to the target user's snapchat account, login and email credentials, which might be a bit complicated. These methods might work for you if you are close to the person whose Snapchat account you want to hack. However, if you found no luck, follow the method given below to learn how to hack Snapchat account on Android or iOS devices.
How to Hack Into Someone's Snapchat Without Their Password
mSpy is the best option for hacking snapchat without touching the target phone or device. It operates in stealth mode so nobody will know what info you extracted from the account like:
All Snapchat messages;
All contacts;
Snaps with timestamps;
GPS location tracking;
All ever typed information.
Although we can't consider mSpy a Snapchat hacking app, as it mostly serves as a tool to spy on someone's Snapchat account without the target's knowledge. Its keylogger can also help you hack a snapchat account if you find out someone's Snapchat password.
Using this product, our team found that unlike many other hacking apps on the market, mSpy comes with a no-jailbreak version, which is way more secure, and it has a stealth mode.
The setup process is also quite straightforward. It goes like this:
Step 1: Register for an mSpy account.
To get started, create an mSpy account by selecting the Sign-Up option located in the upper right-hand corner of this page. Once you click on it, you will be asked to provide your email address and set a password. After completing this step, mSpy will send you an email containing a confirmation link. To activate your account, simply click on the activation link within the email. Moving forward, follow the instructions provided by the Setup Wizard to proceed with the setu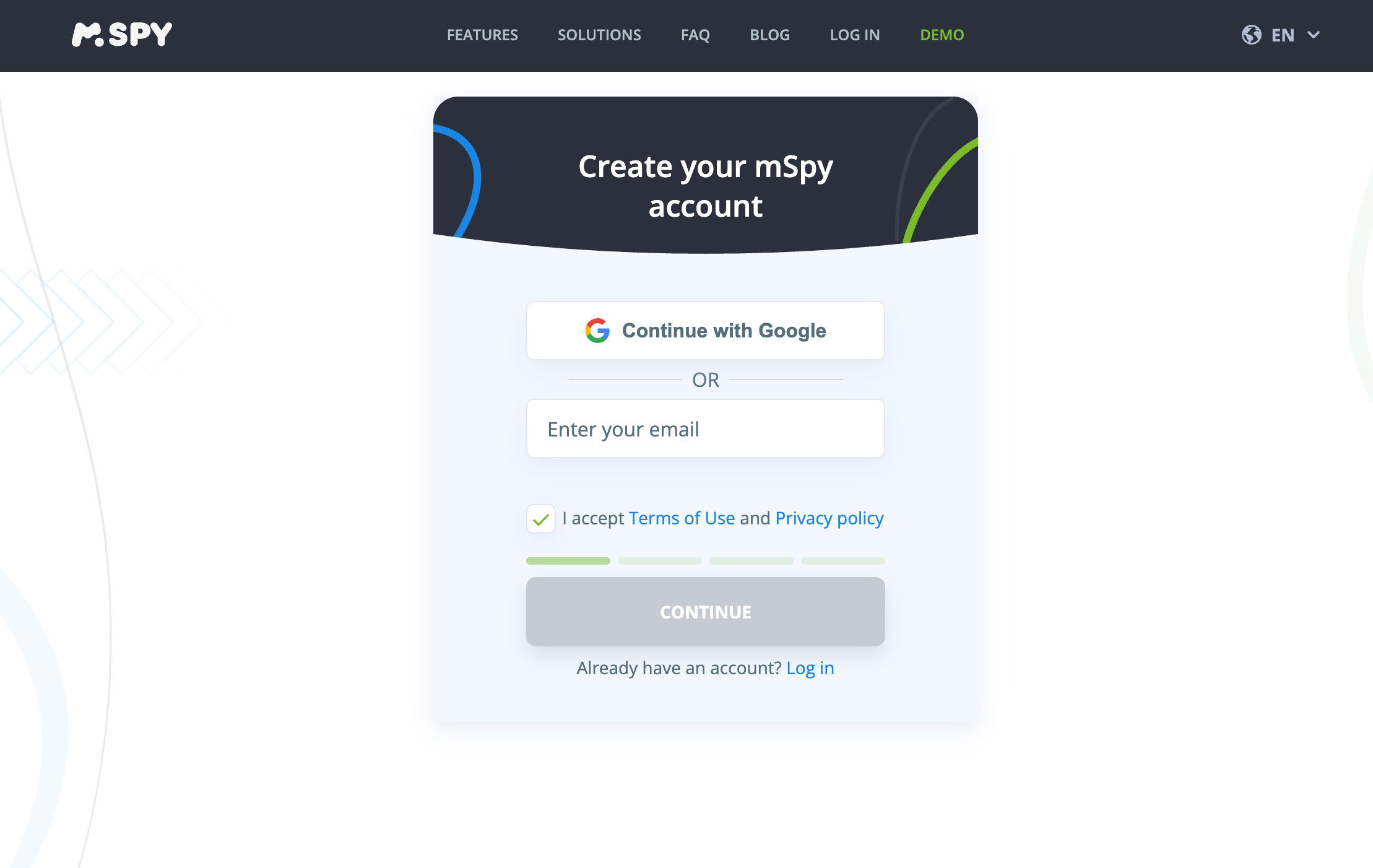 Step 2: Select a subscription plan.
mSpy offers two editions: Premium and Ultimate. On this page, you can find the pricing details for both editions, including options for a one-month, quarterly, or annual subscription. Choose the subscription type that best fits your requirements, and then proceed. Finally, a control panel will appear on your personal computer.

Step 3: Install the mSpy app on the phone you want to monitor.
After successfully subscribing to the service, you will receive a download link. Simply download and configure the mSpy application. Sign in to your mSpy account and follow the on-screen instructions to grant mSpy the necessary permissions to access data on the targeted mobile phone. Once completed, you can choose to either remove the app icon from the home screen or leave it visible.
Step 4: Start monitoring someone's Snapchat.
Now that your mobile device is set up, return to the Control Panel on your computer. As you now have access to the target phone, the panel will display all the supported features. Click on each category to view the stored information on the phone, such as phone calls, text messages, emails, applications, photos, browsing history. You will also be able to hack someone's WhatsApp, hack someone's instagram account, hack someone's kik no survey, Snapchat, Viber, Line, Facebook, and more.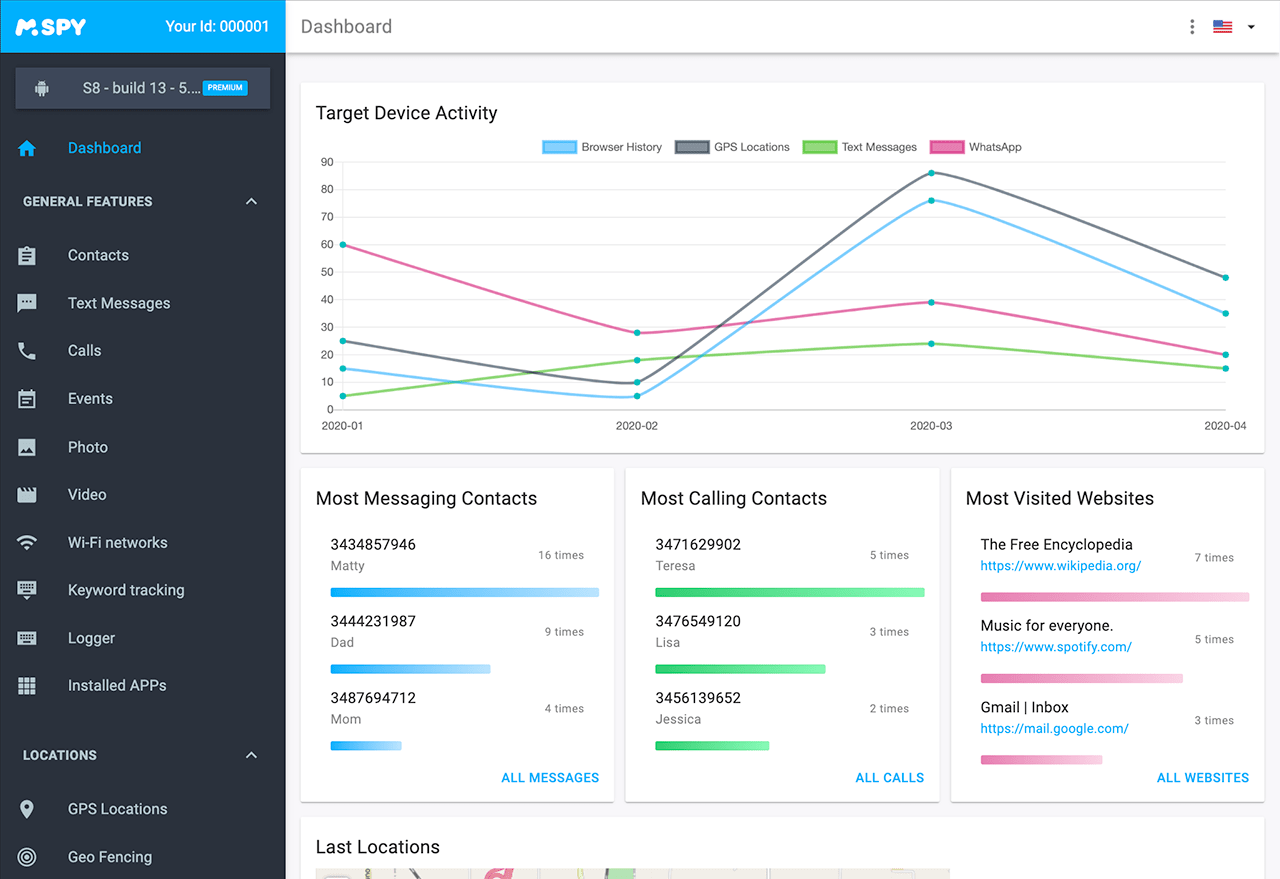 Pros & Cons: As a result of our tests, we have determined that mSpy app is reliable, beginner-friendly, and it offers a full set of advanced spying options. However, the only downside is that it requires purchase and one-time physical access to the device.
How to Hack Into Someones Snapchat Without Surveys
To hack into someone's Snapchat without surveys you need a keylogger.
A keylogger is a hacking tool, that tracks all user keystrokes and saves the information. You can use this tool to extract sensitive information, such as email information, Snapchat username, and Snapchat passwords
mSpy offers one of the greatest keylogging programs that enables you to track your target person's snapchat account's activities with ease. It also comes with an extensive set of additional monitoring features, making it an all-around winner. This makes it a one-stop solution to how to get into Snapchat account.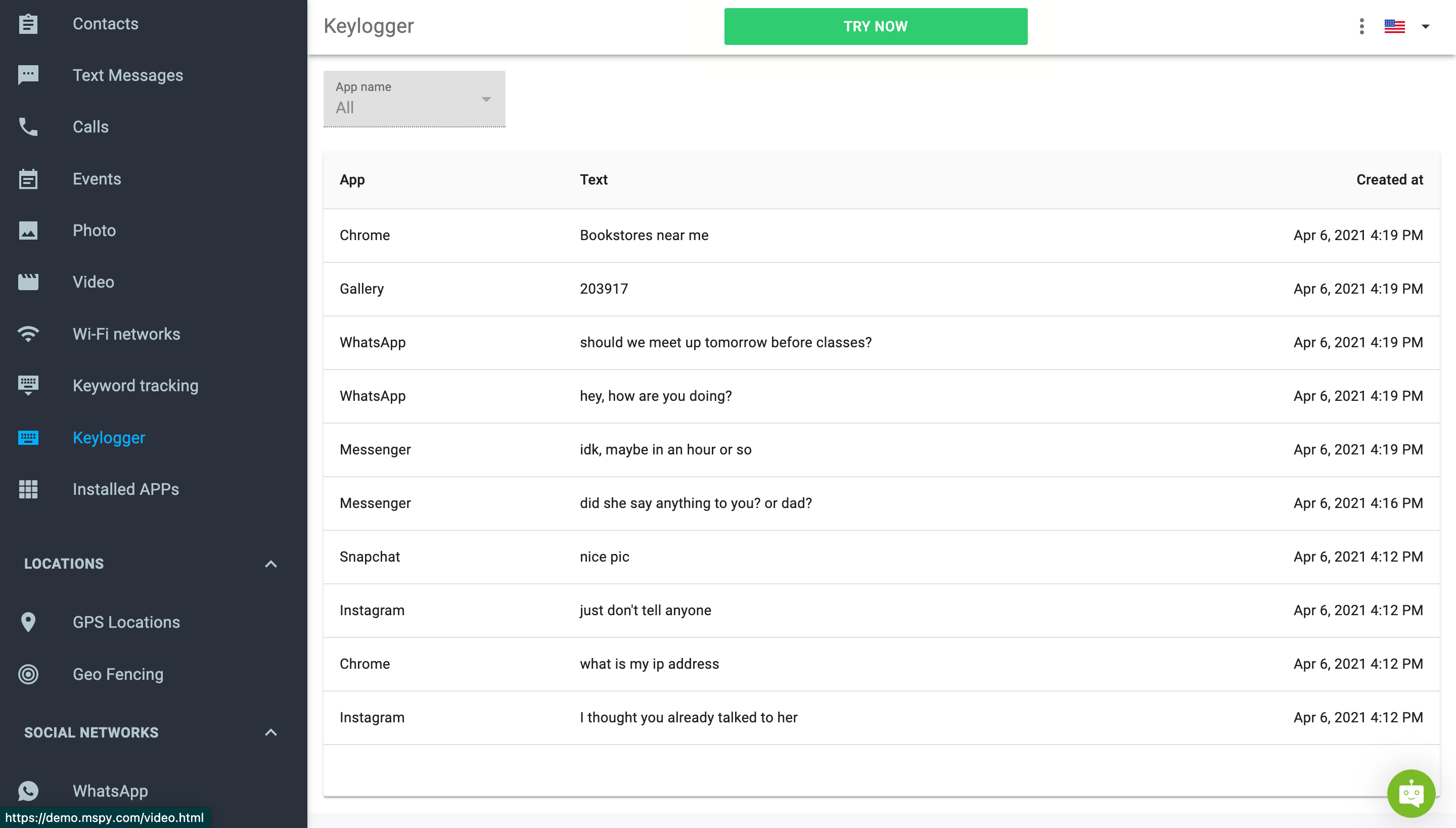 All you need to do is to: Sign up for a subscription plan → Install the software on your target device → Start monitoring keystrokes.
Pros & Cons: What's great about this method is that it's beginner-friendly, and the software comes with other useful spying options. On the other hand, though, it requires a subscription payment and one-time access to the target device.
How to Hack Into Someone's Snapchat on PC
You can also try to use free Snapchat hack online tools, such as the SnapRipper app.
SnapRipper is a free Snapchat hack software that is used for Snapchat password recovery. You can easily use it if you're wondering how to hack snapchat password get someone's Snapchat password.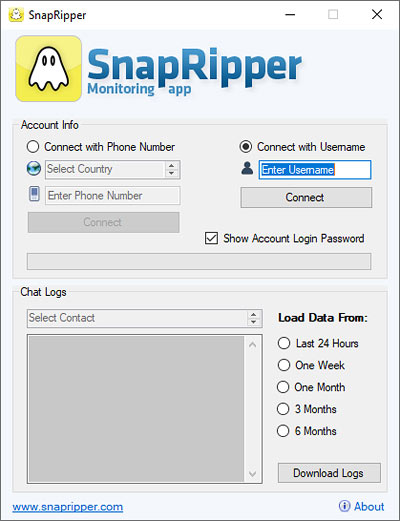 ses certain algorithms to crack passwords – the easier the combination is, the sooner you'll be done with the process.
Here's how to hack Snapchat with this tool to get someone's Snapchat password:
Download the app and install it
Choose whether you'd like to connect via your cell phone number or Snapchat account
Select Connect and wait for the process to complete
Once done, you will see the Snapchat password and other information, such as chat logs
Pros & Cons: This app is available for both Android and iOS users. You can easily download it from the company's website. The only downside to using this software is that it can't crack strong Snapchat password combinations – the stronger the password is, the longer it will take. Other than that, it's great because it's free and easy-to-use.
How to Hack Someone's Snapchat Account Without Them Knowing
Phishing is a practice where you convince the victim into downloading a file, so you would be able to obtain their login page credentials. However, this is a more complicated method since you need to either write the hacking program or locate it online and download it to hack someone Snapchat.
This is a time-consuming process because you need to take care of the little details, so your fake email would be convincing.
Here's what we suggest you do:
Locate or write the hacking program that can steal Snapchat account login credentials
Create a believable email address, preferably imitating a famous company or a business – [email protected], [email protected], etc.
Write a convincing email with a hyperlink to your software and include a call to action.
Make sure that the message is appealing, so the victim would be enticed into downloading the file – say that their account is hacked or something similar.
Once they download and install the file, you can execute the program and grab their Snapchat account login credentials.
Pros & Cons: While phishing is free, which is always great, a downside is that it rarely works. Google's filters often mark these emails as spam, which is why they usually end up deleted. Moreover, if you don't have any advanced software-making skills, you won't be able to create and execute the program.
How to Hack Someone's Snapchat Account Online
A lot of hacking websites, such as FewHacks, boast their free Snapchat hack tool online. They claim that they can easily crack a password for free, only by using the target's username.
Although these claims seem appealing, the fact of the matter is that they simply aren't true.
First and foremost, hacking, especially blackhat hacking, is illegal in most countries . Secondly, no one would give out their sophisticated hacking software for free. You can always test them out for yourself, though. However, if you want to hack someone's Snapchat, you'll need to pay for a good and reliable app. Don't worry though, as there are several options that you can choose from based on your budget and the features you require.
However, be careful. While they are free, these websites are also known to be scammy –you're putting yourself at risk of getting infected with a virus or some ransomware.
The Bottom Line
The bottom line is that there isn't a free way to hack someone's Snapchat without them knowing.
Stay clear of the websites that claim that they can do so, because they usually end up being scams or, even worse, can harm your digital devices.
Through trial and error, we found that the best way to monitor someone's Snapchat account activity is to use a spy hack tool. mSpy is a reliable option that is entirely legal and ethical.
Unless you want to hire an actual professional hacker, which costs money and is illegal, it would be your best and cheapest bet to invest in the best Snapchat spy app. Moreover, you can always request a refund if you're not satisfied with their service.