You know that people use text messages for communication, which has been the primary purpose of messaging apps. However, since both sender and receiver communicate from different locations, is it possible to track another person's real time location via text messages?
The truth is you can track a cell phone location by text message. So whether you are doubting or you want to know how to go about it, this article will teach you how to track the location of someone through text message.
Can Someone Track Your Location From a Text?
Yes. If you want to track someone's location and all you have is their phone number, you can get their precise location by sending one text. How's this possible? Ordinarily, text messaging services do not transmit location data when people message one another. However, certain paid location services allow you to send messages to people and include a URL in the text. If you click this URL, the service collects your location data and sends it to the person tracking you.
Scannero is one of the best tools offering this service. The application pinpoints the recipient's exact location from anywhere in the world. So, here's how to track a text message location using Scannero.io.
Visit the Scannero website and create an account.
As a new user, you will pay less than a dollar for a 24-hour trial. After the trial, Scannero.io will charge a monthly subscription fee of $48.16.
Once your payment is confirmed, you can provide the number you want to locate.
Scannero.io will send a text message to the number with a URL.
The content of this message can vary, but it aims to prompt the recipient to click on a link.
If they click the URL, Scannero.io will request permission to access their location, and most people will instantly agree.
Once they give Scannero.io the location access, the Scannero immediately transmits the location to you from anywhere in the world.
How to See Someone's Location on iMessage or Texting App?
Text messaging apps do not typically transmit location data when you send or receive a message from someone; the messaging app does not send your location details. However, sharing tracking someone's location data within these apps is possible if it supports location sharing.
Messaging apps like iMessage or Google Messaging are built to support location sharing. If you want to know how to check someone's location on iMessage, you must understand that you cannot do it remotely. The person you want to locate must share their current location with you before you can find them. You can also use advanced imei tracker app, which is not accessible to the general public.
You might wonder, "if I text someone, can they see my location?" In the past, text messaging services like Telegram and Signal have exposed users' location details in one form or the other. So if it is possible, your location is being exposed depending on the messaging service you are using.
Is Silent SMS Location Tracking Possible?
Have you ever asked yourself: How to secretly track a phone? You can track someone's location without sending them a text message, as with Scannero. Locactiontraker.mobi, another phone tracking tool, allows you to lure people into giving you their location details.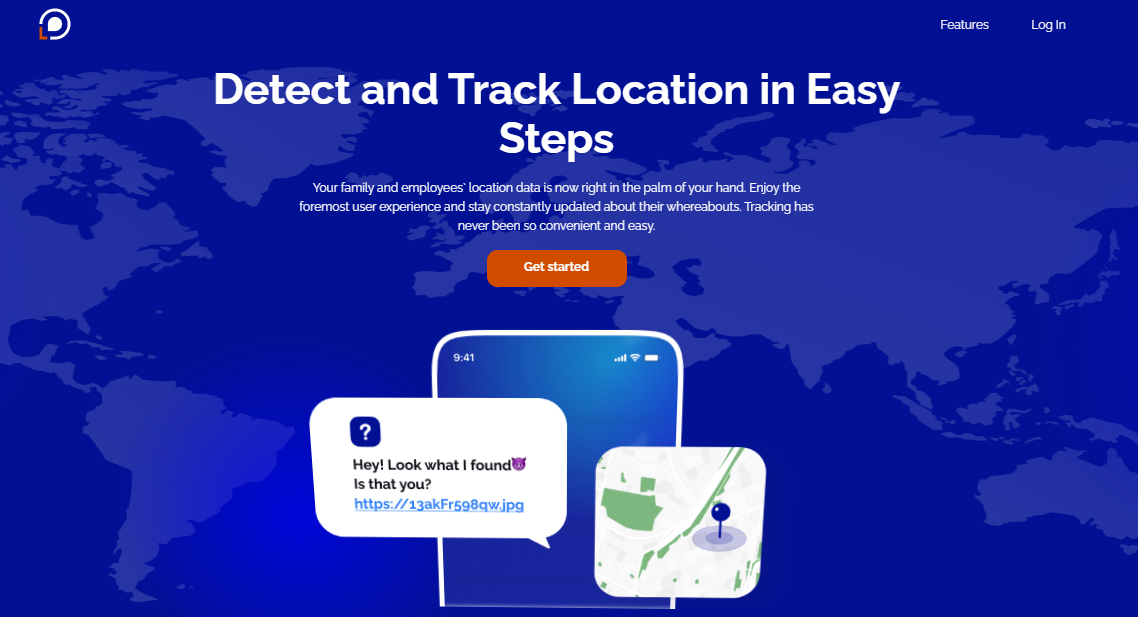 You can track the target's GPS, check the IP address location, see if they're connected to WiFi or using a VPN, etc. All of these happen in four easy steps.
Login to the website and upload an image that will interest the target.
Locationtracker.mobi will generate a link you will send to the target.
Once the target gets the message and clicks the link
Locationtracker.mobi immediately tracks their location and sends you a report.
You must know that locationtracker.mobi is not a free service, and you must subscribe to access the tracking tool.
Track a Text Message Location Using mSpy
You now know how to track someone's location via text. But there are other ways to see where a person is texting from. mSpy is an all-inclusive spy app that allows you to track a person's exact location at any time. You can also check the places the target visited in the past, their text message and call history, phone storage, etc.
You can explore the mSpy text message location tracker to track child's location, husband, wife, boyfriend, girlfriend, employees, family members or anyone else. mSpy uses an app that you must install on the target's device. The application constantly transmits the target's location to your account and is updated every two minutes, so you know their real-time location. You can also check their text message history on all social media platforms to see who they're texting and what they're saying.
To use mSpy:
Visit the official website to create your account.
Provide your email address.
Choose the device you want to monitor.
Choose from the available subscription plans and make payment.
mSpy will send a download link and login details to your email after confirming your payment.
You will also get a step-by-step process of installing and setting up the app when you log in to your mSpy account from your device.
Once the setup is complete, you can start monitoring the target from any device.
After that, you can easily track someone's location.
Track Cell Phone Location by Text Message
How else can your location be tracked by text? You learned about tools that specifically track the phone's location. You also learned about mSpy and how it goes the extra mile to provide superior features that give you remote access to a person's life. There's one last option we'll discuss how to see where someone is texting from.
This method requires high technical skills. You will have to connect with one of the towers of the target's network provider. Network providers have thousands of towers across locations where they provide their services. You can connect to any of these towers to find the three towers closest to your target number. These three towers form a triangulation and make it easy to pinpoint your target's location. By the way, you can also track someone on Google Maps without them knowing.
Conclusion
If a friend had asked, "can someone get your location from a text" before reading this article, you would have argued that it's impossible. But now, you know different ways to track a cell phone location by text message. However, you must know that most of these methods are unreliable because they do not provide real-time location information. To stay updated with your target's location, it is best to use a spy app like mSpy.