There are not many things worse than a cheating partner; a more deadly combo is cheating and lying. One shouldn't have to monitor a boyfriend's activities, but a relationship is one of the most fragile aspects of human life. With people investing a lot of time and emotion into them, there's undoubtedly a lot to lose.
When I realized I had to track my boyfriend by phone number for free, it signaled the beginning of the end. However, I soon came to terms with the reality that the earlier I got it done, the better. I also had to do it the right way to avoid him knowing.
In my quest to always answer the question, 'Where is my boyfriend right now,' I explored several options. I will share the best methods I used to track my boyfriend location for free in this article, so kindly read on.
You might already suspect your boyfriend of being unfaithful to you. You might notice him distancing himself from you, spending a lot more time on his phone, or making many calls when you're not in his line of sight. That is when spy apps that track boyfriends phone can come in handy to track your boyfriend's movements and monitor who he speaks to online.
Let's check out the best ones.
How Can I Track My Boyfriend's Phone Without Him Knowing
If you suspect your boyfriend is cheating, you must do something about it. Finding out the truth and confronting him is best. If you are wondering, "How can I track my boyfriend's location without him knowing?" there are several ways you can do it. I tried something as simple as WhatsApp Web to see who he talks to, then moved to a dedicated location tracker to track his movements, and ultimately decided on boyfriend tracker apps.
Knowing how to track your boyfriend's phone without getting caught should be your top priority. Always make sure to look at local regulations before you start tracking anybody! Tracking someone without their consent is illegal in many countries, and violating it could result in severe monetary and criminal penalties.
Read on to find the best ways I discovered as I learned how to track my boyfriend's iPhone location for free. You can also find out how can i track my girlfriends cell phone.

mSpy – Best Spy App Track Your Boyfriend's Cell Phone

You can install a spy app on your boyfriend's phone to track it or . A spy app is a licensed software designed to secretly track, monitor, and access iOS and Android devices. Downloading, installing, and using a boyfriend spy app is very quick and easy.
Most spy apps feature a hidden or stealth mode. That allowed me to find my boyfriend location for free without him knowing.
mSpy is the best phone tracker if you want to track your boyfriend, offering some of the best features on the market. It's also compatible with Android and iOS devices, so you're covered with the two major operating systems available today.
mSpy Features
Call logs
You can easily track your boyfriend's phone calls. mSpy gives you details like the call duration, date and time stamps, and the receiver's contact details (if it's been saved in the contact list).
GPS Location
mSpy lets you track your boyfriend's GPS location in real-time. Geofencing also allows you to set and receive alerts each time your boyfriend enters or leaves a virtual zone that you set up on the map.
Text Messages
With mSpy's SMS monitoring feature, you can review texts, iMessages, and multimedia files your boyfriend sends or receives. If your boyfriend uses an iPhone and you want to track his texts, this guide can give you more information.
Social Media Tracking
Allows you to track, spy on, and monitor his WhatsApp, Snapchat, Facebook, and other supported social app activities.
Web History
with mSpy, you can also view the target's browser history, including any deleted history. With this, you can track what websites he visits, when, and how often, so you can track your husband's phone without touching it.
Keylogger
This is one of mSpy's best features, especially since several others depend on it. mSpy does a great job of giving you information about all the keystrokes while typing, giving you an insight into your boyfriend's thought process.
Top Spying Apps has also extensively reviewed mSpy, which you can read here.
Note: If you intend to put a tracker on a Phone to track your boyfriend without him knowing, ensure that you check your local laws to avoid any legal consequences.
mSpy Pricing
Pricing
Basic (one month) – 29.99 USD per month.
Premium service for one month – 69.99 USD per month.
Premium Membership for three months – 39.99 USD each month.
A premium membership for a year – 16.66 USD every month.
Pros and Cons
✅ Little to no risk of getting caught
✅ Many tracking features
✅ Easy and convenient to set up and use
❌ Requires a premium subscription
❌ Requires one-time physical access to the target device for Android devices
❌ Requires iCloud credentials to monitor iOS devices.
SpyBubble: Track Your Boyfriend's Phone Without Him Knowing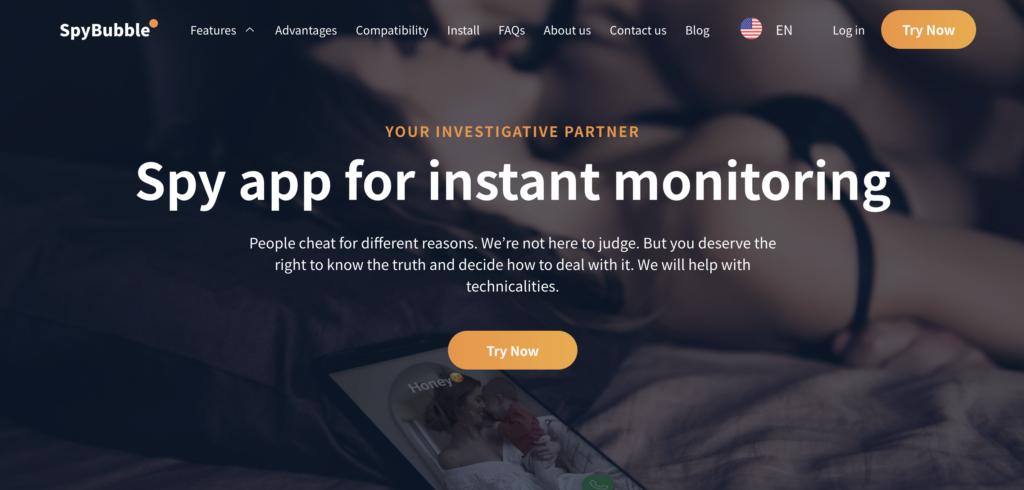 Another reliable app I found useful in tracking my boyfriends cell phone is SpyBubble. This spy app offers a bunch of basic and advanced features that you can use to monitor every app on the target phone. Like mSpy, SpyBubble also operates in Stealth Mode, and it answers your question on how to track your boyfriend without him knowing for free.
Furthermore, SpyBubble is also compatible with iOS and Android smartphones, so you can easily install the app no matter what phone it uses. However, you must note that while installing the app on an Android device will require physical access, you can easily install the app on your boyfriend's iPhone using his iCloud credentials.
SpyBubble Features
Phone Call Monitoring
SpyBubble can monitor all incoming and outgoing calls on your boyfriend's device while giving you dates, timestamps, and the call duration for each entry.
Further, the app will also give you the person's details on the other end, such as their contact name or phone number.
Monitoring Text Messages
This phone tracking app also lets you monitor all the sent and received text messages on the target phone, along with dates and timestamps for each, any media or MMS files attached to the messages, and more.
What's more, the app also saves all the deleted messages, so your boyfriend will have no way of covering his tracks.
Social Media Monitoring
You can also use SpyBubble to monitor your boyfriend's communication on dating apps and social media, like WhatsApp, Facebook, Instagram, Telegram, Snapchat, and Tinder, among others. SpyBubble, like mSpy above, is also an accurate Tinder tracker app.
Tracking Keystrokes
One of the trickiest parts of wanting to spy on your boyfriend's cell phone activities is getting his passwords. This problem is solved by SpyBubble's keylogger, which accurately tracks all the keystrokes entered on the target Android phone or iOS device. With this feature, you can track all his social media passwords and secret codes to circumvent two-factor authentication.
Browser History Monitoring
The last feature, among the several available, is the app's ability to monitor your boyfriend's web browsing history. This app will give you the URLs visited, the time at which they were visited, and for how long. It will also show you the deleted web browser history, so you will know even if your boyfriend tries to cover up his activities.
SpyBubble Pricing
The Basic plan is one month for 29.99 USD.
The total Membership for one month is 49.99 USD.
Full payment is due every month; it costs 26.66 USD.
Full Membership for a year is 12.49 USD.

Pros and Cons
✅ Offers several advanced features
✅ Easy to install and use
✅ 100% undetectable
✅ Offers full access to Facebook and Instagram on iOS
❌ Doesn't come with geofencing
❌ Some features are iOS or Android-specific
How To Locate My Boyfriend By Phone Number For Free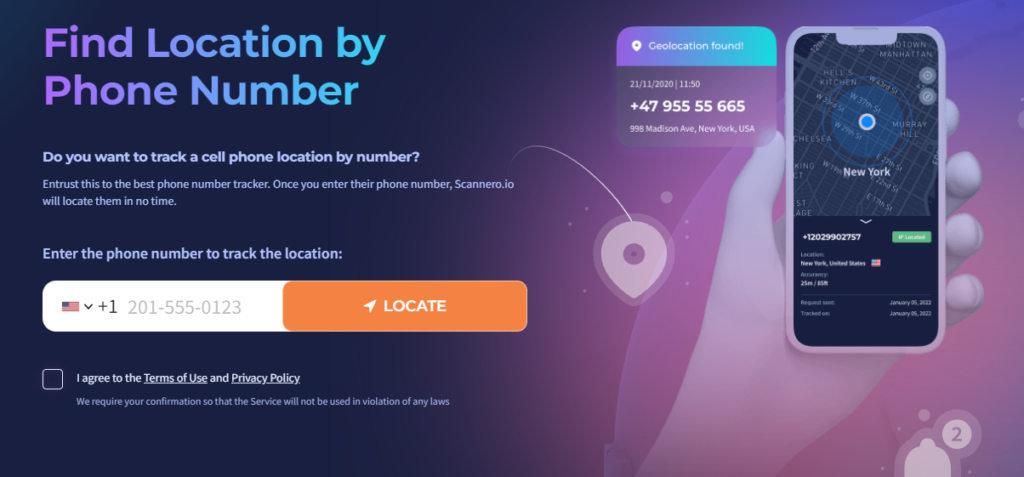 Scannero is by far the simplest way to secretly locate cell phone of your boyfriend using only the phone number. The process is straightforward- no need for installations, rooting or jailbreaking.
All you need do is head to the website, enter your boyfriend's phone number, and click on locate. The best part is that you only need to pay $0.89 for the first 24 hours to track an unlimited number of devices. Try it today.
Use Find My Device to Find My Boyfriend's Phone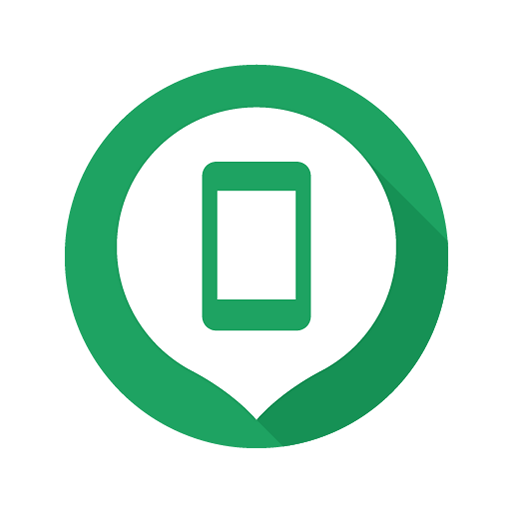 If you don't want fully-featured phone location tracking apps like the ones mentioned above; you can also use a native Android tool like Find My Device to track boyfriend's android phone location. Find My Device is a native tool that can be used to locate a family member's cell phone, locate a lost device, lock and even erases it if needed.
However, tracking your boyfriend's Android smartphone can also be handy. All you need are his Google account details, and you'll be able to locate his device on the map. This method isn't without its drawbacks, but we'll get to those after we explain how to use this tool. The steps are mentioned below –
Open

android.com/find

on a web browser and sign in using your boyfriend's Google credentials.

Select your boyfriend's phone from the list of devices you want to track.

Find my Device will show you the device's exact location on Google Maps so you can track its location.
While this method is free, the biggest downside is that your boyfriend will receive a notification on his phone that someone is trying to track his phone or has located his device. He could turn off location services, switch off his phone, or, worst case scenario, things could get rough. This is where 100% discreet tools like mSpy and SpyBubble can be life savers, allowing you to track your phone without him ever knowing about it.
Use Find My to Track Your Boyfriend's iPhone Device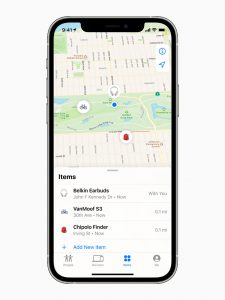 Like Find My Device for Android phones, iPhones come loaded with their native tracking feature known as Find My. This feature came through when I wanted to know how to check my boyfriend location on iPhone. The only prerequisite for this app is that Family Sharing must be turned on for you to track your boyfriend's device. Alternatively, you'll have to log into his iCloud account using his Apple ID and password. The steps to use this tool are given below –
Open the Find My App on your iPhone or a web browser.

Tap on

Devices

or

Items

.

Select the device you want to track, in this case, your boyfriend's iPhone.

You will be shown his phone's exact location on the map. You can navigate to your boyfriend's phone location by tapping

Directions

.
Once again, while this method is free, your boyfriend can easily find out that someone is trying to trace his phone's location, and he can turn off location services on his device.
WhatsApp Web – Track Your Boyfriend's Phone Via Desktop Apps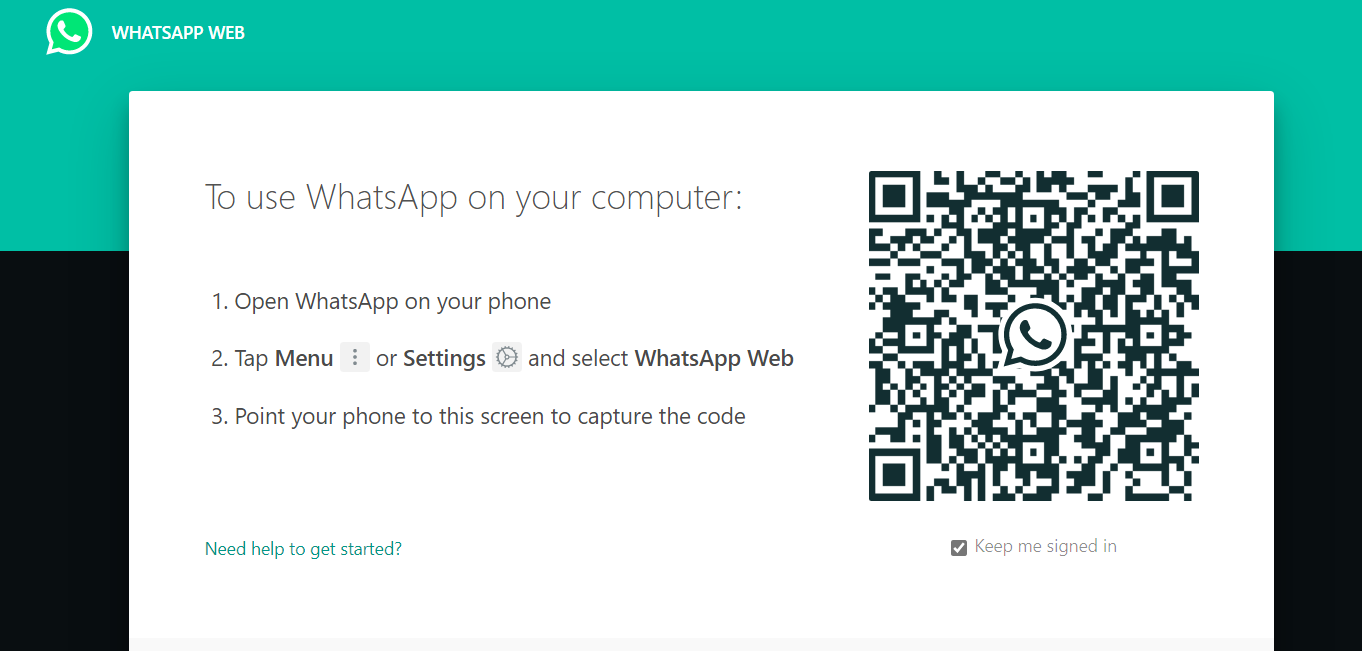 This method works if you only want to track a few supported phone activities like messaging apps, emails, and Gallery.
Desktop messaging apps offer ways to track your boyfriend's cell phone location, including text messages on the target device.
WhatsApp is a widespread messaging app installed on almost every iOS device or Android phone. Many people in relationships use it to communicate. This makes it a good place to start. Your boyfriend will likely use it to communicate with other women.
You can monitor WhatsApp for free using WhatsApp Web. This built-in WhatsApp feature will allow you to conveniently access everything on your boyfriend's WhatsApp from your PC or Mac.
How to Log in to WhatsApp Web
Step 1: Tap the WhatsApp app icon on your boyfriend's phone.
Step 2: Tap on More options
Step 3: Tap LINK A DEVICE. Follow the on-screen instructions if your device has biometric authentication.
Step 4: Select the checkbox next to 'Keep me signed in' below the QR screen on your computer.
Step 5: Use your boyfriend's phone to scan the QR code on your computer screen.
Step 6: Tap or select Done when prompted
All data, including messages, photos, and videos, will be synced to your computer immediately. You can read all his chats with other girls here.
Note:
His phone must be connected to the internet to have all the latest information.

If your boyfriend is tech-savvy, they will know you are logged into their WhatsApp.

Your boyfriend can log out of synced devices. This means you can lose access to this tracking method at any time!
Pros and Cons
✅ 100% free
❌ Physical access is required to set up WhatsApp
❌ Hard to use if Biometric Security is enabled
❌ You can only monitor one platform (WhatsApp)
❌ High risks of getting caught
Can I Track My Boyfriend's Phone Without Him Knowing?
Yes. You can track your boyfriend's phone without them knowing using mSpy or SpyBubble, one of the best Android spy apps to catch a cheating spouse. You can access phone call logs, real-time, location history, and social media accounts, all in stealth mode. Please note that we do not provide legal advice. Consult your legal advisor else risk prosecution.
Is It Illegal to Track My Boyfriend Without Him Knowing?
Yes. It is illegal to track your boyfriend without their consent in many countries. If caught and reported, you can face severe monetary and criminal penalties! Always seek legal advice and be ready to take full responsibility for your actions if you are caught while tracking your boyfriend's phone.
How Can I Track My Boyfriend's Phone For Free?
If you want to track my boyfriend and access information such as location and text messages for free, you can use WhatsApp Web. Alternatively, you can use mSpy's 7-day free trial to see who he speaks to and where he goes. mSpy is compatible with Android and iOS and is 100% invisible on the target device.
How Can I Track My Boyfriend's Phone Using Google Maps?
The simplest way to track your boyfriend's location using Google Maps is with native Android or iOS tools like Find My Device or Find My. These tools require you to log in using the target's Google or iCloud credentials respectively to be able to track him on Google Maps. The downside with these, however, is that he can easily find out that someone's trying to trace his location. As such, spy apps like SpyBubble are a much more discreet solution that allows you to track his location in real time, get dates and timestamps for each, and accurate location coordinates.
Final Words
Finding out that your boyfriend is cheating can be hard. Gathering the evidence, you need to confront him can be even harder. However, with tools like spy apps, this task is made much easier, as they allow you to track all his movements and activities without him knowing. We've listed two of the best spy apps you can use for this purpose – mSpy and SpyBubble. Both boyfriend spy apps are incredibly reliable, offer good customer support, and are highly accurate.
On the other hand, if you don't want to track his SMS messages, view photos, or track his calls, you could look towards free tools like Find My Device or Find My. However, the biggest downside is that your boyfriend can easily find out if you're trying to trace his location.
At the end of the day, you'll have to make a smart decision based on your needs and how much information you want. If you want to get solid evidence, spy apps are the ideal solution.
[faq_block ttl="FAQ"]